I have an exciting search ahead of me.  Once I finish my thesis (this week!… hopefully) I will start on the search for my next home for the next 2+ years.  I have been saving this as a reward for finishing my thesis, and if will be a treat to research and visit these seminaries this Spring.  I will be looking to start in the Fall, and I am hoping to find a school that will allow me to grow and deepen my understanding and practice in children and youth ministry, with the possibility of serving elsewhere in the future.  Here are my top 9.
(From L-R, or West to East)
1. Talbot School of Theology – www.talbot.edu
La Mirada, California — 1,500 Miles / 24 Hours from Houston
I don't have many thoughts on this school yet, but hope to research it more.  I have trouble seeing myself in California, but it could be God's place for me.
2. Fuller Theological Seminary— www.fuller.edu/
Pasadena, California– 1,500 Miles / 25 Hours from Houston
I know that Fuller is a great seminary for serving the community and going out into the world, values I hold high.  It would definitely challenge me.
3. Denver Seminary — www.denverseminary.edu/
Denver, Colorado — 1,000 Miles / 17 Hours from Houston
I would pursue an MDiv here, and believe I could have some focus in Children's Ministry.  I love Colorado and would enjoy the environment there– I think.
4. Wheaton Graduate School– www.wheatongrad.com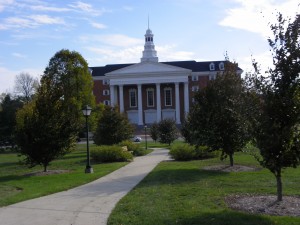 Wheaton, Illinois — 1,100 Miles / 18 Hours from Houston
I have visited Wheaton so many times, I can't even count.  My sister considered it, I considered it, I'm considering it again.  It's definitely one of my favorite schools- I would love to go to the same place that influenced Billy Graham, Jim Elliot, and other saints.  This is the one that isn't a seminary, but it has phenomenal Children's Ministry and Camp Ministry programs.
5. Trinity Evangelical Divinity School– www.teds.edu
Deerfield, Illinois — 1,100 Miles / 19 Hours from Houston
I visited this school a year ago and found it to be a possibility.  They certainly have a good academic reputation and high standard in studies.
6. North Park Theological Seminary– www.northpark.edu/Seminary.aspx
Chicago, Illinois — 1,100 Miles / 18 Hours from Houston
This is in Chicago, and I'm not sure how I feel about living in a big city– but it's a lovely international area of town, including Scandinavian influences.  The seminary is connected to the Evangelical Free Church, which is a fine church, but I have to think about if I want to be automatically associated with it.
7. Southern Baptist Theological Seminary– www.sbts.edu
Louisville, Kentucky — 1,000 Miles / 16 Hours from Houston
I attended Baylor and went to a Baptist church there, but my Baptist heritage pretty much ends there (except for our years overseas at Baptist churches, which are really outliers).  I'm not sure if I want to be automatically tied to just the Baptist church, but it definitely has a great network of churches.
8. Gordon-Conwell Theological Seminary- Charlotte- www.gordonconwell.edu/charlotte
Charlotte, North Carolina — 1,000 Miles / 17 Hours from Houston
I love North Carolina, and would love to go to school at Gordon-Conwell, a wonderful seminary in Massachusetts, but I don't want to go that north.  This might be a good option and could be a good experience and challenge as well, going to a secondary campus.
9. Southeastern Baptist Theological Seminary– www.sebts.edu
Wake Forest, North Carolina — 1,200 Miles / 20 Hours from Houston
One of my good friends and mentors went here, and I think it did him well.  It seems like a good school and another wonderful place in North Carolina.
If you would like, hop over to the sites above and check out the schools.  Let me know what you think and where you think I should go.
It's going to be hard living so far away from Texas, but I see it as a challenge, an adventure, a chance to experience a new type of life.  And I'm excited.
(Here's a map of all these places– http://maps.google.com/maps/ms?msid=208671921313458458004.0004b6391a37a9e5cba4d&msa=0&ll=38.065392,-98.305664&spn=25.477515,49.174805)