I love musicals.  I'm not ashamed (usually).  They are fun, diverse, and interesting.  Moments of fun, Deep Questions of Life, Odd Characters, Epic Storylines- (and no, I'm not talking about High School Musical).  It's good to look beyond the typical fare and find fun musicals you might have missed before.  Here are five of my favorites.
1-2. A Very Potter Musical & A Very Potter Sequel
If you have not watched these hilarious sensations, go ahead and forget about doing anything else for the next five hours or so.  Seriously!  Go watch it now.  Go!
A Very Potter Musical- http://www.youtube.com/playlist?list=PLC76BE906C9D83A3A&feature=plcp
A Very Potter Sequel- http://www.youtube.com/playlist?list=PL86C718AEE71C9DE9&feature=plcp
Ok, for those who did not zip away to watch these shows, here's a little description.
These two productions come from the minds of Team StarKid, a group of college students from the University of Michigan.  They are parodies of the Harry Potter books and movies as well as college humor and pop culture (with a few random things thrown in here and there).  The first is a mix of Philosopher's Stone, Goblet of Fire, Half-Blood Prince, and  Deathly Hallows;  the second is an amalgamation of  Philosopher's Stone, Prisoner of Azkaban, and Order of the Phoenix.  
That being said, the storylines in both are all over the place.  They take characters and push them to the extreme, such as Harry (played by Glee's Blaine, Darren Criss) being even more arrogant, or push them to strange places you never would have expected– Voldemort is a likable character?  Draco acts like a little girl (and is played by a girl)?  Lupin is just plain crazy?  Yep.  And more.  So, if you like the books or movies or both, give these productions a watch– You'll be glad you did!  (And keep your eyes out for a possible THREEQUEL) (warning, some humor is a a little rough)
"Going Back to Hogwarts"- The first song of the first musical- It goes on forever, and it's totally awesome!

"Days of Summer"- The last songs of the last musical- A good ending to a pair of great productions
3. Nativity!
This musical is a tricky one.  The story is about a man (Martin Freeman from the British Office and the new Bilbo in Peter Jackson's The Hobbit) who works in a school and is tasked with directing the school's nativity play– and over time, it builds to an extravagant production beyond his control.
Now, let me say this– the makers of this movie obviously had different ideas in mind.  There's traces of School of Rock, traces of the typical English school story, traces of The Office humor, traces of High School Musical… honestly, the first half of this movie is really not that great.  The character development, the plot, the relationships– not that compelling.  BUT (and this is a big BUT), the musical itself is FANTASTIC.  They don't pull the typical move and show one song and end the movie (or worse, roll the credits before the actual production begins)– they show (pretty much) the whole musical!  And it's great!  Fun, cute, silly, and amazingly produced!  So, if you want, watch the whole thing– it's nice to know the backstory– but if you don't care, just watch the musical itself– It's great!
Two Lovely Songs from Nativity!
Sparkle and Shine- To watch go to http://www.youtube.com/watch?v=IkXM5LNGK8k&feature=related
Nazareth- To watch go to http://www.youtube.com/watch?v=M5T1SEOlBb8&feature=related
4. Man of La Mancha
Now, I'm probably wrong here– you probably have heard of this musical.  But I'm going to talk about it anyway.  It covers the beautiful story of Don Quixote, the mad lord-turned-knight who travels out to re-enact the medieval tales that have overtaken his imagination.
I saw this production in New York a few years ago with the stunning Brian Stokes Mitchell (who sang as Jethro in Prince of Egypt) as Don Quixote and Ernie Sabella (voice of Pumba from Lion King) as his sidekick Sancho Panza.  You can buy the soundtrack for this production, which I found top-notch because of the cast. (Or just listen to this song between Mitchell and Sabella!)
If you want to see this musical, there is the 1972 version with Peter O'Toole and Sophia Loren, which is also very well-done.  I acted out parts of this musical with my good friend Lisa back in high school, and it has grown dear to my heart.  I hope you enjoy this story of following your dream, whatever it may be.

The Impossible Dream- A Performance at the Tony's with Brian Stokes Mitchell
Golden Helmet of Mambrino- Peter O'Toole in the 1972 version
5. Lifted!
Now, these other productions either are full-on musicals or involve a full musical, but this is one is merely a musical movie, not a movie musical.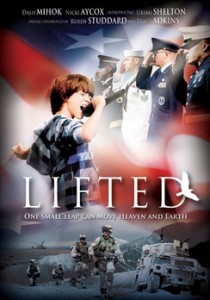 It is about a boy named Henry who loves to sing and participates in a local music competition.  That is the plot, but the real story is about the boy and his family.  His dad is sent to Afghanistan; his mother struggles with a drug addiction; his grandfather is abusive.  All through these troubles, the boy moves forward in hope and song.  At times the production is beautiful, with gorgeous shots and presentation, but at other times, especially with the acting, it shows its poor amateur side.  But don't let its weaknesses prevent you from enjoying the story and the music.  Uriah Shelton, the boy who plays Henry, has an amazing voice and a kind demeanor– he also acted in the movie Alabama Moon, which isn't so great, but his role is very powerful.  There is a surprising twist at the end, and it made me re-watch it just to enjoy the story even more.  Hope you give it a try!
Forever Young- Performed by Uriah Shelton and Dash Mihok
I Miss You- This song from Henry to his dad (and from all kids to their military parents) makes me tear up every time.
Alright!  Here are some fun musicals for you to enjoy that are not the obvious High School Musical or Wicked or… well, you get the picture.