So, one of the hardest challenges that you face when you have moved to a new place is the search for a new church.
It seems like it should be pretty easy.  Just find a good group of people that worships Jesus and that's all!  Right?  Well, in a way… but there are so many factors, some good-hearted, some selfish, some crucially significant.  You ask questions such as:
– Do I want to find a church like my home church or try something new?
– How would they define their worship? Charismatic? Classic or Contemporary? Performance? Volunteer led? Do they raise their hands? Do they clap? Do they only play the newest Chris Tomlin song?
– How do you get connected? Do they have Sunday School or Small Groups or both? Do you just visit anywhere, any time? Do you have to email or call ahead?  How open are they to new people, both in word and deed?
– How old is the church?  Are they set in their ways? Or are they just starting? Or somewhere in the middle? What will the expect of me?
– Do they pass the plate? Can you give online? Where do they use their money? How much do they give to missions?
– How much service do they expect people to participate in? In the church? In the community? Around the world? How many hours per week? Or do they just want me to sit back and do nothing?
– What do they say about evangelism? Do they want the church to go out and minister to people or invite and welcome people into the church, or a combination of both?
– How do they view kids? Families? Infants? If a child cries in church, does everyone instantly freak out? Is Sunday School basically babysitting or is there actual intentional instruction and spiritual development and care?
– How early do they meet? (I told you some of the questions are selfish!)
– Do they have liturgy? Is it difficult to follow along or do they help newbies that don't the liturgy?
– How do they do communion/Eucharist/Lord's Supper? Once a month? Twice a year? Every week? Do you go up or do you participate at your seat? Is it for everyone, or just for believers, or just those who are immersed, or just the members of that denomination, or just the members of that church?
– How do they practice baptism?
– How do they view healing and miracles?
– What is their reputation in the community? What is their history? What are their strengths and weaknesses?
– Are there relationships beyond Sunday mornings?
– Are the pastors available for contact and ministry?
– How far away is the church? What coffee do they serve? Are there snacks?
– How does the church view America and God's will? War? Politics? Do they address every single issue or ignore everything or land somewhere in the middle?
– Is the focus more on Christ, or on God seen in the Old Testament, or on the Holy Spirit, or the love of the Father, or on the return of Jesus, or on their particular church, or just the Bible, or tradition, or something else?
– What's their mission statement?
– How welcoming are they to new people? Do they pretend you don't exist? Or do they freak you out and invite themselves over to your house that very day? Or somewhere in between?
– What translation of the Bible do they use?
– How do they view education, both of pastors and ministers and of the congregation? Do they expect pastors to have some schooling, or do they prefer people with "real world experience"? Do they expect members to be growing, going to Bible studies, having personal devotions, or is their any expectations at all?
– How do you become a member? Do you have to sign things? Attend meetings? Is it shockingly easily or ridiculously hard, or somewhere in between?
– Do I sense the Spirit's leading while there on a Sunday morning? What am I being told? What am I singing? What are people saying to each other?
– What's the temperature in the building?
– What type of events do they have?
– Do people bring their Bibles? Do people use their Bibles during the service?
– Is there a spectrum of ages? A variety of ethnicities? People from different walks of life, classes, and communities?
– Do people have a proper view of the pastor/s or minister/s?  Or is it hero worship or disrespect or somewhere in between?
– How do they view drinking? Abortion? Social justice? Roman Catholics? Africa? (And yes, that is a strange combination of subjects.)
– Are you being led closer to God?
– Is God receiving His glory?
– Is the church pointing the world to God?
– Do they play movie clips in the service?
You see, those last four questions are the most important questions.  Oh wait, um, okay, skip that last one, and focus on the three above it.  Yeah.
But really, these are just a few of the questions that you are going to have to ask when you are finding a new church. You can visit churches, look online, ask people, send emails, make calls, pray, meditate, and think deeply about these issues, but eventually you're going to have to settle.
It took me until my Junior year at Baylor to really settle down at a church.  In the meantime, I visited a number of churches, attended two for long periods of time, and even served in and plugged into one of them for a semester. You see, you shouldn't settle until your spirit is settled.  You can't find the perfect church– because, as the joke goes, as soon as you join it's not perfect any more.  But you also shouldn't neglect important questions about ministry, theology, and community.  Really, as you search for a church, what you're looking for is the phrase I repeated over and over again in those questions- somewhere in the middle.
Now, I don't mean a lukewarm congregation that will soon be Jesus spit.  No, I mean a church that's somewhere between your selfish desires and God's greatness, between your comfort zone and the risky life of faith, between where you are and where you should be in the future.
As it is, churches change, churches grow (at least they should), and thus (or as the catalyst) you need to grow and sometimes that means you need to change.  So the church you are looking for now may not be the church you need to be at later.  What's important is to remember that doesn't mean you can leave a church "Just because it's not for me anymore" or "Because I've outgrown it" but because "God is calling me onward." What that means to each individual person will be different, but when you commit to a church family, you need to stay until you receive certain direction of some kind– and this direction is to serve elsewhere, to love others elsewhere, to worship God elsewhere, not just to get other things for yourself.
Whoa, some of this stuff just starts bubbling out of my brain and I sometimes can't tell where they go!
But really, what it comes down to is a person's relationship with God. We must follow and remember that each person is on their own journey. Sometimes it's time to travel with others, and sometimes it's time to go down the untrod path. We must each be accountable to God in our own journey.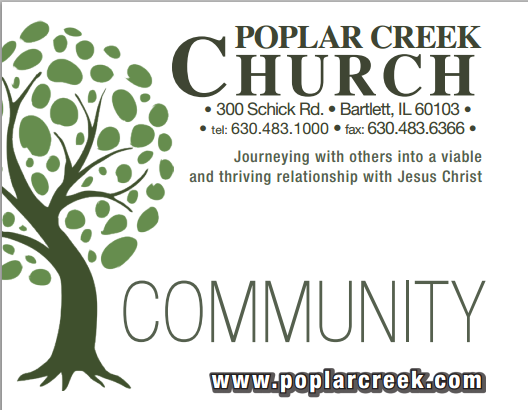 Well, after all those reflections, I am happy to say that I have found a church here in Illinois. I visited Poplar Creek Church back in October. I had seen it listed online and had gone to the website– it sounded like a wonderful community. Here's just a bit of the welcome on the front page:
"
We Welcome You
– 
We want to extend a special welcome to those who are single, married, divorced, gay, filthy rich, or dirt poor.  
We extend a special welcome to fussy infants, and gray-haired veterans – skinny as a rail or could afford to lose a few pounds. 
We welcome you if you can sing like an angel or couldn't carry a tune if it was strapped to you. We have them both here… 
We welcome those who are inked, pierced, both or neither. We offer a special welcome to those who could use a prayer right now, were guilted to come today by grandma, or got lost in traffic and wound up here by mistake. 
We welcome tourists, seekers, doubters, bleeding hearts … and you!"
I wanted to test their words, and when I got there that Sunday, I found a wide variety of people there. A volunteer led worship team. A loving but convicting message. Weekly communion. Individual giving, not passing the plate. Children and youth and adults worshiping together. And it was real interesting, because one guy up front looked real familiar. He told a story before Communion, and as I listened, I realized he was in one of my classes at Wheaton!  And even more, I could have sworn that he had gone to Baylor as well! So after lifting his name from the bulletin, finding out he was the director of youth, I checked Facebook and sure enough, he had been at Baylor!  So that week, I caught up with him and we figured out which class we'd taken together. I heard about how he got to Poplar Creek, and even more, I heard him share of the possibility of me serving in the Children's Ministry.  He mentioned a job, an internship, or even just volunteering, but I always quadruple think big decisions, so I told him to talk to the pastor and get back with me. Well, he did, but last semester was a hard semester. I was undergoing some depression, isolating myself, not reaching out. So I missed out on getting plugged in.  But I kept going.  And I finally met the pastor. And finally I got connected to the Children's Minister at Poplar Creek!  And within the past few days, I've made plans to help out, visited a typical Sunday School class, met a whole bunch more people, and feel even more a part of the community!
It's nice to see how things tie together after looking back at it all.
I'm glad my church search didn't take as long this time, but I know this– God has plans that we won't ever know.  And we should never rush or become apathetic, but merely be obedient to where He is leading us.  The Church Search will reach its proper end as long as you keep God first and follow Him along the way.
Anyway, these are a few words that I wish I could have had as a young undergraduate. Maybe they can help you, whoever you are, wherever you are.  Grace and Peace.