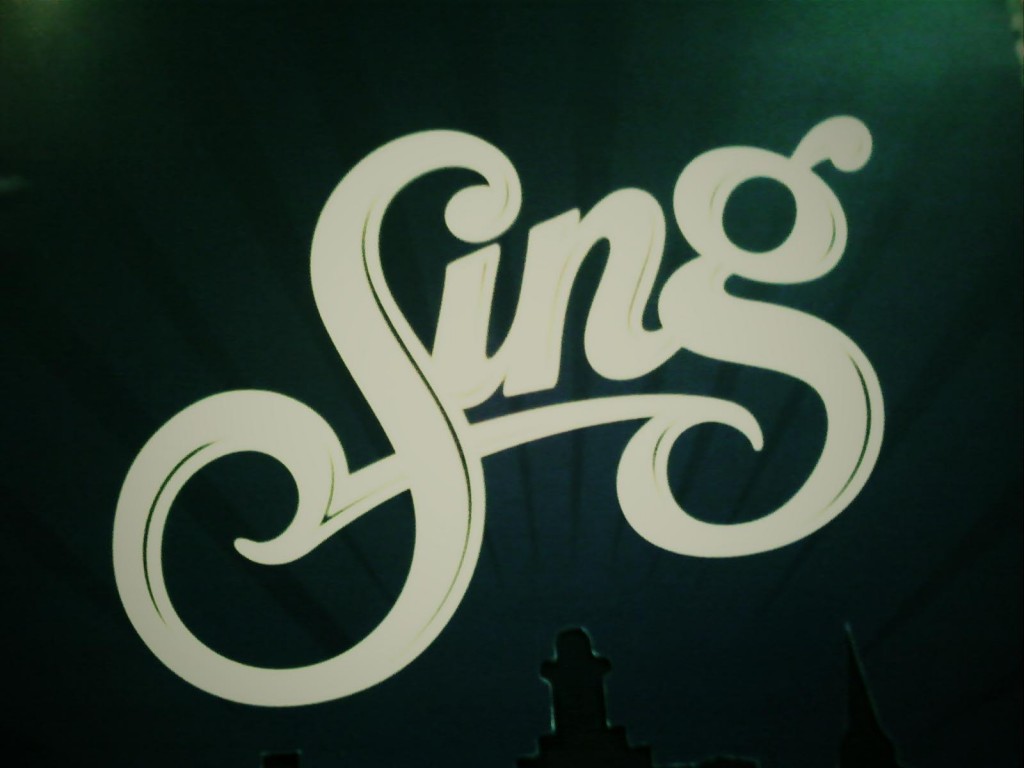 It's that time of year. The sorority girls are losing sleep, the frat guys are sore, and everyone's wondering who will win All University Sing.
One of my favorite events at Baylor University, my alma mater, is the grand tradition of Sing. It's this whirlwind of an event, for students and parents and kids and alumni, spread over two weekends, with over a dozen big acts each with their own mess of costumes, props, and backdrops. Basically, Sing is a 4 hour production in which fraternities, sororities, and maybe one or two non-Greek groups (such as Sing Alliance!) perform 7 minute musicals with choreography, decor, choral singing, and individual performance. Some groups go all out and bust their butts trying to make their act the best one yet, while others seem to stumble on to stage each night and somehow make it through their act. At the end of the two weekends, winners are announced. There are the People's Choice awards, which go to Best Backdrop or Best Vocals and other categories, and then there are the top eight acts, and then there are the top three winners of All University Sing. The top eight get to perform again in the Fall at a special Homecoming event called Pigskin and the top three get bragging rights until next year.
I was so very fortunate to be connected to Sing long before I was even in college. My sister was a member of Sing Alliance, which is a group that was formed by some like-minded individuals who loved Sing but weren't performing with fraternities or sororities. It's been around for a number of years, and when my sister was involved, they were experiencing a Renaissance of sorts. Her first year was ok, not so stellar. The second year, 2006, however, was great. It was Mario themed and had Marios and Luigis and Princesses and Turtles and songs like "Are You Gonna Be My Girl" and "We Go Together." In fact, here's a (kinda poor quality) recording of the act!
Well, that year Sing Alliance got to perform at Pigskin, which was a first time for them in a long time!  The following year, 2007, my sister was actually on leadership for Sing Alliance and they created a Peter Pan Act that was, in my honest opinion, one of the best Sing acts ever.
That year Sing Alliance not only was invited back for Pigskin, but also won People's Choice Award for Best Backdrop AND Best Theme Development!  I have to say this was my experience within Sing Alliance, though it hasn't always been true.  All University Sing has a few typical styles and models and plots that the other groups typically use, but I always found Sing Alliance was at their best when they valued story and silliness. When they had a Theme that had a Beginning, a Middle, and an End, and when they cared more about having fun and being themselves than winning Sing, that's when they did well.
Well, the following year the act was okay. And the following year, 2009, Sing Alliance did a fun yet simple yet compelling act called "A Latte Love" set at a coffeehouse. And they were invited to perform at Pigskin, and they won Best Music Selection– and they won 3rd Place!  That was big moment for Sing Alliance, and though I had wanted to join before, when Pigskin came around in the fall, I just had to sign up.
Sing owns your life for a few weeks a year. I can only imagine what Leadership has to do– when you're simply a member, you have to go to practices a few times a week, not to mention practice singing and dancing in your free time, on top of your other commitments. Then you have to carve out weekend nights for run-throughs and dress rehearsals, and then when the performance comes, you feel both dead with nervousness and thrilled with adrenaline. But, we persevered and kept the Sing Alliance name in high regard. Here's one of our performances.  I'm there in the background somewhere! (Actually, in "The Way You Make Me Feel" when the blue shirts move over and the green shirts come in, I'm at the back in the center.  And though I was shaking with fear, I think I actually did pretty well!)
(As I hear the music, my body can't help but automatically start doing some of the moves!
So, in the Spring of 2010, Sing Alliance faced this question: Will our win be a one time event, or can we be as great or greater than the 2009 performance?
So the Leadership put together a concept that was bigger and stranger and greater than any Sing act ever had been– well, in some ways.  It's so much fun being part of a Sing act before the performance because it's all about secrecy. Though some people blab about their acts, it's so much fun (yet so hard) to not tell anyone about what you're doing, singing, etc. But it's worth it for the big reveal.  And so Sing finally came and we performed "A News Sensation," an act that had:
– TWO Backdrops, with a big switch near the end
– A huge Costume switch near the end
– More people on stage for a Sing act than ever before
– People going out to the audience and dancing in the aisles
– A truly visually breathtaking and larger-than-life feel to it.
So without further ado, here is "A News Sensation" (Don't ask me where I am, cause I'm honestly not sure. And sorry, this video is real poor quality, but at least you get a feel of the audience's "What in the world?!?" reactions!)

Finally, the night came that they announced the winners. All the groups waited outside in the courtyard by the theater and were chattering away with guesses, hopes, and nervous energy. And the winners were announced… and Sing Alliance got invited to Pigskin!  People's Choice Award for Best Backdrop!  And… won 3rd Place again!  The group erupted with joy and celebration, and we were simply happy that we showed that it wasn't a fluke, Sing Alliance truly can put on a good show.
After that, I left the group for a number of reasons, but I was so happy to be a part of something bigger than myself. I'm going to always consider participating in Sing as a great object lesson, because when you watch a performance, you experience all the elements at once: the costumes, the songs, the lights, the props, the backdrop, the makeup, the characters, the story, the vocals, the arrangements.  Every element is important, but the overall production is what you experience. Just like that, sometimes in life, we can too easily focus on the small details, miss the forest for the tree. I know after a performance, I would get really upset with myself for messing up with choreography or lyrics, but looking back, I couldn't tell when or where that happened (or even where I am in the mass of dancers!).  What's great about Sing is that you learn that sometimes, when you can sacrifice and contribute your individuality– your time, your energy, your talents, your voice– to the group, something greater than yourself can take place. You are a part of it, and the It is just stupendous!
Before I go, I have to say, I love love love Sing Alliance, but there are a few other acts that have caught my fancy over seven or eight years of going to Sing.  So I will utilize the wonderful power of You Tube and post three of my favorites that are out there in the world wide web. (Often poor quality and poor angles, but hey, it's better than nothing!)
"Welcome to Your 80's, Ladies"- Pi Beta Phi- 2011

"Up the Ladder"- Kappa Omega Tau- 2006
"Heroes and Villains" – Alpha Tau Omega- 2009

"Meet Me At The Fair"- Kappa Kappa Gamma- 2006
"The Toys are Back in Town"- Kappa Omega Tau- 2010

"Taking Out The Trash" – Kappa Sigma- 2007

And one honorable mention to Alpha Tau Omega's act, "Brought to you by the Letters A-T-O" from 2006 or 2007– couldn't find it online, but let me just say this: Sesame Street + Bohemian Rhapsody = Brilliance.
Anyway, it will be weird not to get to see Sing this year, but fortunately I have fond memories and plenty of recordings to enjoy in the meantime– and I hope you enjoy them too!