In the next couple of weeks, Andrew Peterson and Jason Gray, David Crwoder, and Audio Adrenaline (with Kevin Max) will be blazing through my neck of the woods and I am looking forward to seeing all of them! As I'm trying to get tickets, I've though about some of my favorite concerts of all times, so I thought I'd throw out a list of Evan's Top 12 Concert Experiences!
1. Sonicflood- KSBJ Brown Bag
Take one band
one radio station
and a Chick-fil-a
and you'll have one of my first and favorite concert experiences. Our church youth group had an outing to one of KSBJ's free Brown Bag concerts. It was here that I hung out with and really connected with one of my dearest friends. (I also cheated and bought my dinner from the nearby Wendy's.) I really enjoyed the music, but it was also the atmosphere that made it so memorable– families everywhere, kids running around, sitting on the grass, cars driving by. It felt like a real community event. As it so happens, my family now has an apartment right by this Chick-fil-a at the corner of West Rd and Texas 6, and every time I drive by my mind goes back to that evening in seventh grade.
2. Steven Curtis Chapman- Live Out Loud Tour
In 2001
this album came out. And in 2002, I saw SCC on this tour.

This was also in middle school, around the time I started really developing my own library of CDs and personal taste in music. Every track on Chapman's album stood out to me, from the heart-thumping "Live Out Loud" to the inspirational "God is God" to the song that I often skipped just because it was so strangely overwhelming, "Savior." I was so excited to go to this concert with my dad– we used to go to many different concerts, it became something special between us.
The concert was truly an experience– the lights were incredible (though, granted, it was one of the first concerts I attended that had such a great light show), the venue was enormous (Cynthia Woods Mitchell Pavillion in The Woodlands), and Steven's enthusiastic music just blew me away. But it was really the audio-visual elements (which you can see in the video starting at 1:20) that told the story of the missionaries to the Aucas who died at the hands of the people they had gone to save. It's truly a powerful story, and Steven really made it come to life to me. Jim Elliot and Steve Saint and the others are heroes of mine and honestly, they are part of the reason that I came to Wheaton. I hoped to join their heritage and maybe live a life of faith somewhat like their own.
3. Michael W Smith and Third Day- Come Together and Worship Tour
Take this brilliant musician of CCM fame
and this epic band from Atlanta, Georgia
and combine their most recent albums "Worship" (by MWS) and "Come Together" (by Third Day) and what do you get? The COME TOGETHER AND WORSHIP tour.  This was a memorable event because… drum roll please…. I won the tickets on the radio!  That's right, I was the seventh caller to KSBJ and won two tickets to the concert! (I even have my reaction recorded on a cassette tape somewhere.) I went with my sister to the gigantic venue, then the Compaq Center and now Lakewood Church's Central Campus. We found our seats near the front and they started the show.
It was my second time to see Third Day and my first full Michael W Smith concert. It's hard to define some concerts these days with the ongoing trend of the artist/worship-leader. Third Day had previously released their "Offerings" album, and Michael W Smith truly jump-started the trend with his "Worship album. (In fact, for a while, I was adamant that his version of "Forever" was better than Chris Tomlin's– and then I found out Tomlin was the writer.) But how do you describe a worship event? You don't want to focus on the artist, nor on the effects, nor on the venue, not even on the performance. And still, it is a concert… I don't know.  But it was truly an enjoyable night.
4. Relient K
In 8th grade, this album had just came out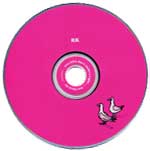 And boy, I listened the heck out of that thing. Yes, I said it– the heck!  In seventh grade at church, this album
was constantly playing in the gym during free time, but in eighth grade, that pink CD was constantly playing, at church, in the car, at home, in my mind. So when I got a chance to see them live, I jumped at the opportunity. So my mom, my friend Lauren (who went to Sonicflood with me) and my friend Lisa hopped in the Toyota Sienna and headed down to the concert. It was at a warehouse type of place and it was definitely a rougher crowd than we were used to– the addition of Anberlin and the fact that Relient K had college-aged fans made it this way, but it was real fun. There was space for "moshing" though I stood at the edges. It was much louder and the energy of the crowd was infectious. It wasn't as much as an orchestrated event as other big concerts, but it was truly exciting. We were all pumped up for the drive home and once again listened to that good ole pink CD.
5. Delirious? and David Crowder*Band- World Service Tour
Man, these two bands… how much have they influenced and developed worship music over the past twenty years? I've loved their music for so long and I am so glad that I got to see them both, seeing as they've now both disbanded.
Got to go to this concert with my mom and one of my good friends from high school. It was at The Fellowship of The Woodlands, and man is that church big! Each of these brands bring such joy and energy to their music– and the use of lights and visuals make the experience even better! I will say, though, it's not just about gimmicks.  One moment stands out to me.  As we sang "Investigate" they passed around a candle and every person got to touch it, uniting us as an audience but also as the body of Christ. It was real touching and memorable.
I have to say I've been real grateful to my mom through so many of these concerts when I was younger– she drove so many miles, bought tickets, and often sat through really loud concerts, all for me. Truly grateful!
6. Zap Em Dead Bartholomew
So back in high school, there was this band called Zap Em Dead Bartholomew.  They were what you'd call a "screamo" band– which wasn't exactly my cup of tea, but I was really opening to new types of music so I hoped to see them in concert.  Also, I pretty much knew everyone in band.
I knew all these guys (at this iteration of the band) personally, either from church or school or elsewhere. Most of them were in my grade and most people in class had seen them, so I wasn't in the "cool" crowd.  (Oh wow, that sounds so ridiculous now.) While part of my desire to see them was driven by popularity, I truly love to see people's creativity and talent, especially people I know. Nothing makes me happier than getting to see another part of a person's life, especially if it's their art.
So I ended up at Java Jazz (or Java Junction or something like that) and it was quite interesting… Definitely a different crowd, different atmosphere, different feel. But boy, it was a driving concert. Nothing like a good screamo song with excellent lyrics– really, I had known nothing like it.  Unfortunately, as I never really immersed myself in that genre, I can't highlight the best parts of the concert. It'd be like me trying to describe a Pinot to a bunch of wine connoisseurs. All I know is that I enjoyed the whole experience and was so proud to call those guys my friends.
(Check out one of their songs, wonderfully titled "Excuse Me Mr CS Lewis, But The World Is On Fire. Enjoy!)
7. Behold the Lamb of God Tour
Freshman year of college, I really got into Andrew Peterson's music. I had heard his music before, owned a few of his albums, but when I moved to Baylor, for some reason it all just came alive. I received a few of his older albums for my birthday and just couldn't stop listening to them. So when an opportunity came for me to see AP and a dozen other amazing artists on the Behold the Lamb of God tour, I couldn't say no!
This album tells the story of the birth of Christ, but the story doesn't just begin with Mary, but long ago, with Moses and the Israelites and the Prophets. From "Gather Round, Ye Children Come" to "O Come O Come Emmanuel" the story before the story is told– and then the story of Jesus' birth begins with "Matthew's Begats" a song taken from Matthew's list of Jesus' ancestors. Seriously, it's just a list of names, but it is so singable and fun, I've had it stuck in my head many a time. And so on and so forth the album goes– story after story and finally, Christ is come.
Though I've seen the concert four times now, that first time was magical. I went with my good friend Hannah, who was also a big AP fan (and even bigger Bebo Norman fan, and he was on the tour that year!). We drove to Dallas and settled in for the concert. It starts with artists in the round– the main musicians on the tour each play one of their songs while the others sit back and listen attentively. It's so enjoyable to see each artist in his or her element while surrounded by friends and family. The second half of the concert, they play the BTLOG album from start to finish. While in the first half you are caught up in the family of musicians, in the second, you are caught up in the story of the songs. Every song flows into each other and voices harmonize and instruments carry along emotions of sorrow and joy and peace.  It's definitely something to be experienced. Fortunately they do it every year, so if you get a chance, definitely go and see them!
8. The Decemberists- The Hazards of Love
Whenever I think of the Decemberists I think of three things. First, my sister introducing me to their music and their second album. Second, my friend Jeremy from camp singing "The Mariner's Revenge Song" as he chased and dunked our friend Jon in the pool (to the point I became the third member of that group). And third, my trip to the House of Blues with my friend Trent to see them back in 2009.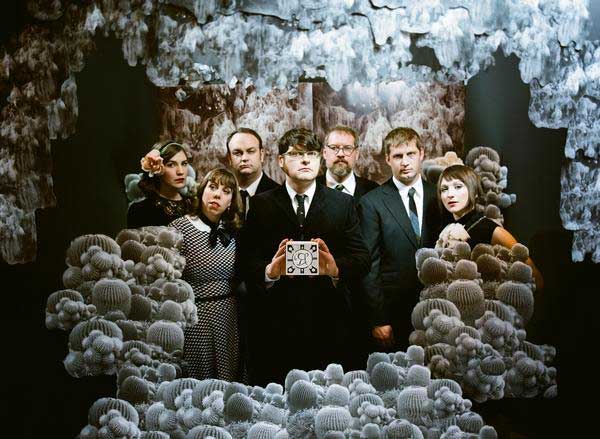 I was pumped to get to hang out with Trent, to see a show at the House of Blues, to be back in Houston, to finally see the band live. It was definitely an experience of the legs, because we stood in line for a couple hours before the show, then stood for a while inside before the show started, then stood for the two opening artists, then stood for the entire Decemberists show and encore– and then walked back to our car. Trent complained the whole time– and I love him for it, haha. Trent and I had gone on many trips and adventures together– from dollar store trips to random photo taking sprees to trying to see Zap Em Dead Bartholomew but never finding the venue and ending up at an Italian restaurant for dinner. I knew whenever we did something together, the experience would be memorable.
The Decemberists blend of folk and rock was accentuated by their epic storytelling in "The Hazards of Love." This was more of a rock opera than a mere album, and the concert was more than a concert– it was a truly participatory event. People sang the lyrics (if they weren't shouting or screaming them). People would raise their hands and sway. We were all crowded together and moved as one body. You were so close you could almost feel Colin Meloy's spit on your forehead (in a good way). The people in the crowd were… interesting, but it was all part of the experience.
I wish this video was closer to the action, because it feels much less potent at this distance. But you can see the show– the backdrop felt other-worldly, the whole band is totally rocking, the lights make the whole thing transcendent, and more. I have to say they might be my favorite concert experience, but it's hard to pick.
9. David Crowder Band
I have to do some intense math to figure out how many times I've seen David Crowder and/or the David Crowder*Band (Sorry, I'll be using that asterisk on and off throughout this thing.) As far as I can say, I'd say the count is at… TWELVE TIMES. Throughout high school, college (including having coffee with Dave), and beyond, I've gotten to enjoy their music over and over again. And I'll be seeing Crowder in a couple weeks. There's just something about their music…
I can't pick one concert. Should I talk about the time they came to Cypress and played at the church where a member of the band grew up? Or about their album release concert at their home church, UBC? If so, which one "Remedy" or "Church Music"?  When I saw them perform for Crowder's Fantastical Music Conference at Baylor? Or when I saw them at the House of Blues with my dad after they released "Give Us Rest"? Or any of those other times? I don't know.
But they sure are innovative. Their music always contains some sort of element that is unlike anything I've ever heard. Whether it's the fusion of electronica in "Remedy," the electric rock sound from "Church Music" or the introduction of folk into "A Collision" they always were up to something new. One concert featured megaphones all over the stage. At that same guitar they used a Guitar Hero guitar to rock it out. Another time they used the T-Pain app to modulate Crowder's voice. But it's not just about gimmicks. They truly are artistic in all stages of the music– writing, composing, mixing and performing. And yet they are not simply focused on themselves, but very humble and glorifying to God. They truly create a concert experience that carries across themes of awe, wonder, transcendence, beauty, joy, pain, and hope. Maybe that's why I just can't stop seeing them.
10. Caedmon's Call
This was one of the bands on my bucket list. Well, maybe not bucket list.  Coffee cup list?  Definitely had been hoping to see them for a few years, and finally in my senior year at Baylor they came to play at the local coffee shop, Common Grounds. What made it even more special was that Derek Webb was touring with the group again.
I'd seen Derek Webb plenty of times, but the one chance I'd had to see Caedmon's Call back in high school didn't work out. So when I heard they were coming to Common Grounds, I knew I had to see them.
Common Grounds is the typical college coffee house. It was started by a Baylor student and I would say it's clientele is probably 97% Baylor students (and Baylor professors, staff, and alumni). But I don't know, I'm not good at numbers. I've seen many a band at Common Grounds– Leeland, Phil Wickham, Chris Rice, Sanctus Real, Waterdeep, and more. But with it's odd statues, old couches, retro furniture, colored walls, random bird cages (and for a while, pet parrot), CG is a truly a fun place to be.
The concert was half Derek Webb songs and half Caedmon's Call classics (with some more recent songs here and there.) But there was such a feeling of celebration and reunion at that concert. Apparently they had played there at Common Grounds fifteen years prior, and some people there were at that concert as well!  I was happy to be a part of history and finally enjoy the music and the presence of this gracious and soulful band. Here's a song from that night for you:

11. Trans-Siberian Orchestra
I don't really have to say why I loved this concert do I?  Come on.  The music, the energy, the fire… yes, the fire.

I was sitting rows and rows back, but every time those flames jumped I could feel the hairs on my arm tingle and fall.
It was definitely an experience to remember– so glad my friend Keifer asked me to go!
12.  Rich Mullins Tribute
This last mention was a concert that crossed time and space. No, it wasn't in a Tardis. It was in Knoxville, Tennessee just last year.
I never had the privilege of meeting Rich Mullins or even seeing him in concert. Other than, of course, on YouTube and DVDs and elsewhere. He has been such an inspiration to me, when I first came across The Rich Mullins Tribute concert, I knew I had to go. It was the day before Hutchmoot 2012 in Nashville, TN, so I had even more of a reason to head down there.
The concert was put on by other musicians who had been inspired by Rich. No one officially connected with Rich or who used to play with him were there, but it was merely folksy, grassroots, and authentic. Simply a gathering of people who loved Rich and all he did.
The concert consisted of individual artists playing favorite songs by Rich, each with their own personal talent and style. Now I don't mean some weird beatbox cover of "Creed" but merely artists representing the many facets of Rich's classics. Piano, guitar, hammered dulcimer, choir driven songs, personal, corporate worship, heart warming and heart breaking. The wide range of Mullins' music.

Here in America – A Tribute to Rich Mullins from Rich Mullins Tribute on Vimeo.
But the best part of the concert were all the videos they played from Rich's concerts. Sure, I'd seen many of them before, but there was something special about seeing them with a hundred other ragamuffins, celebrating Rich's life fifteen years after his death, in the middle of a concert featuring him music. Instead of simply passively viewing the footage, we became a part of his legacy. We participated in his music, and, especially on the last song, sang with his audience, with his band, with Rich. And in that moment, I felt like I finally had gone to a Rich Mullins concert. That experience will carry through my whole life. I hope.
Close Contenders
Mercy Me Brown Bag at Woodlands Mall, Phil Wickham/Charlie Hall in Arlington TX, Chris Rice at Common Grounds, Leeland at Student Life Conference, Sara Groves and Others at Art Music Justice Concert, Sufjan Stevens in Dallas, Spur58 at Houston First Presbyterian, and Andy Osenga's Leonard the Lonely Astronaut Concert at Hutchmoot 2012. (And honestly there are a bunch of Andrew Peterson concerts I'd like to write about, but I'll try to stop here.)
Hopefully Someday
Audio Adrenaline, Burlap to Cashmere, DC Talk (reunion?), Robin Mark, The Killers, full Sara Groves concert, and Rich Mullins (hopefully someday…)
What about you? What are your favorite concert experiences? Who do you think others should see? Who do you hope to see someday?