Over the years, we've had computers, external hard drives, flash drives, thumb drives, CDs, DVDs, CD-Rs, CD-RWs, Mini-CDs, memory cards, SD cards, MicroSD cards, 3.5 Floppy Disks, Floppy Disks, and more… and now, of course, we have "The Cloud"– or really, multiple clouds.
I have my own collection of videos, songs, recordings, documents, pictures, files, and folders on a variety of storage media that I have transported from one place to another– I've tried to put some of it on my cloud, but it's a lot of work to get it all there.
I know that I am a pack rat when it comes to all these things– because I'm not saving the files themselves, but the experiences, ideas, and memories connected with each file. A video brings up emotions, an old Word Document lets me wrestle with thoughts I once had.  I save them, because I want to savor them.
But haven't we all been doing this for centuries? Not with computers and files, but with physical objects. We hold on to physical things, not because they contain memories like a computer has memory– but because they help us recover memories that are found within our heart, mind, soul.
I look around my apartment and see a whole collection of treasures that really have no worth in themselves– but the worth I ascribe to them is priceless.
~:~
In the TV Show Alias, there were countless times where Sydney Bristow had to recover some piece of information stored somewhere. (I recently rewatched the series– and it brought back memories too!) Sometimes she needed a key or a cipher or some other piece of technology to actually access the information– in one case, there was half of a microchip that needed the other half to be read. 
That's how physical objects work, sometimes. The memories are there, in your heart, your mind, your soul. But they have to be drawn out or brought to the surface– and treasures of the past can do that. They can transport you to another time and place and let you remember who you once were. Sometimes it's a joy, sometimes it's bittersweet– but more often than not the journey is worth it. At least for me.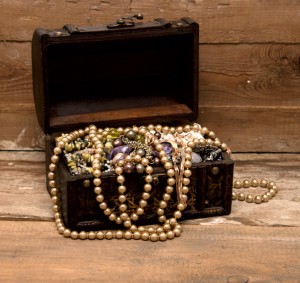 I know it's dangerous to be such a pack rat. Because a living space can only contain so much (as some of you would say) clutter or (as some of you meaner people would say) junk. But also because a soul can only contain so many memories. I can look at an item from early childhood, one that I know was really important for a period of time– and it brings back very few memories. But sometimes I hold on to it, simply for old times sake. 
I have to remember to purge and clear my living space and my soul– because if either are too full of the past, there is no room to take in memories and treasures from the present or the future.
Though this is certainly not what Christ was speaking of, these words run parallel to this theme: "For whoever wants to save their life will lose it, but whoever loses their life for me will save it."
I don't believe that Christ requires that we be ascetic or gnostic, believing that the physical is evil or meaningless. But I also know he doesn't want us to be materialistic or overly retrospective.  We must live somewhere in the middle ground and remember that Christ is our true treasure— and that in the end, all these things will fade and merge into the glory of God. And as Rich Mullins sings in "Elijah":
"When I look back on the stars.
It'll be like a candlelight in Central Park.
And it won't break my heart to say goodbye."