Found this list floating around my Google Drive. I had typed up these thoughts (probably at 3 am) the night after the last day of Day Camp 2012. It was a rough summer, a good summer, a bittersweet time. I knew it was time for me to move on for now– and not just because our theme was being ON THE MOVE. This wasn't even the last day of the summer– but it was a special day indeed. This is why recording memories is so important– they might seem like nothing (on one end of the spectrum) or so monumental that you'd never forget them (on the other end), but as time goes by, memories disappear. Unless they are preserved with ink and pen, pixel and bit. Thanks, Past Evan.
Top things for the last day of day camp!
– Waking up too late for the Huntsville bus, realizing it was a blessing from God to get more sleep
– Leading songs for the last time… The mic stand continually breaking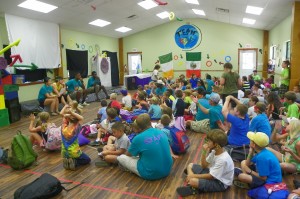 – Teaching the story of the birth of the Church— about the disciples not knowing what was going on, about "fobbing," and then how they went on the move and loved and served and helped people
– _______ answering my question of what is the church… "We are the Church."
– Really opening up to them
– Doing a like 10 or 15 minute skit, with a 5-7 minute battle scene… All the costumes, all the plot, all the action— SWEET!
– Playing "My Hope is You"– then playing guitar for a while while groups got up and left… Not wanting to stop…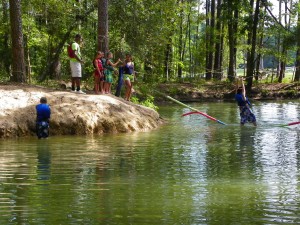 – Going to the Lagoon with Groups E and F– blobbing some kids, having Beansprout take pictures, going on the rope swing (going on the toy for the first time), climbing across the Aqua Bridge for the first time and making it across like THAT
– Going to lunch and getting smores made for the boys, with Manchesthair and Trippz … Mmm…. Good
– Doing an UNO parade– first time ever
– Elbows- running around with 1 second to spare!
– Swimming in the pool, playing UNO with some campers, throwing kids, finally getting dunked by some campers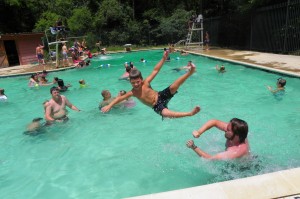 – Driving around with Shmittles
– Playing Gaga
– Talent Show– fun skits, senior campers doing "Let me See Your Dinosaur"
– Having the campers sign some posters for me
– Letting each group go and take a picture with me
– Walking around, getting pictures with favorite campers
– Singing "Every Move I Make" and "Fruit of the Spirit," last PRUNE for a while
– Signing shirts
– Talking with families– taking pictues, receiving presents
– Talking about our fundraiser and our theme, getting a little verklempt
– Announcing the amount
– Watching Camp Video
– Saying goodbye to kids, giving hugs, saying hi to parents
– Woodlands/Conroe– fun ride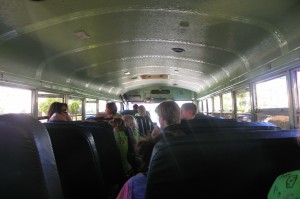 – Hanging out with _______ the whole ride there
– Giving hugs and watching the last campers leave
– Driving back with Tejas
– Drinking Texas Tea
– Realizing it was lasagana, hanging out on Lakeside, eating
– Gathering stuff for projecting videos
– Showing the videos!!!