It's hard to believe it's been almost 2 years since I started writing this series of reviews… it's been a busy 2 years!  But, guess what? Ross King has released a new album, so as a way to promote his ministry and music, I figured I should pick this back up!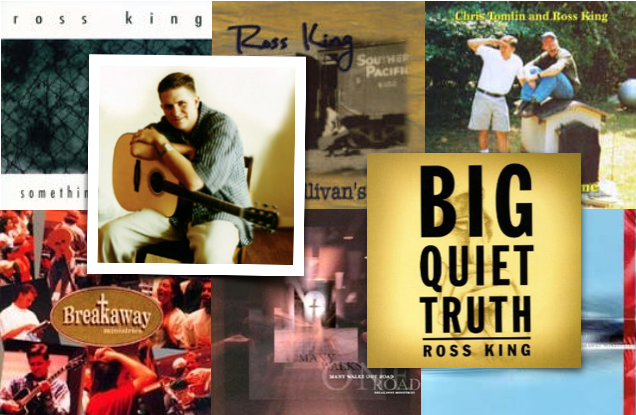 In case you missed the first post, here it is.  Ross King has been making God-glorifying music for more than 20 years now.  His worship songs point you to Christ.  His Christian songs convict and compel.  And his fun, funny and silly songs are the silliest, funniest and funnest (I know it's not a word– I don't care!) songs around.  I hope this review of his early 2000 albums (To Make God Famous, And All The Decorations Too, and To Make God Famous, Vol. 2) cause you to look him up and buy his music. (I'm including some online links so yo u can hear the music now, but don't just listen to it on YouTube, Spotify, Apple Music, Google Music, Amazon Music, ohmygosh, therearesomanystreamingservicesthesedays…– support his music, his ministry and his family by buying his music.  You can go to http://rosskingmusic.com/  or use actual money to purchase an album or song on Amazon, iTunes, etc.
So without further ado…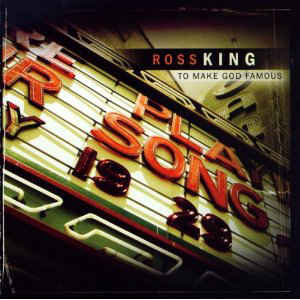 To Make God Famous (2001)
A few soft notes, a quiet echo, and the sounds build as Ross sings, "Behold He comes riding on the clouds, shining like the sun at the trumpet call…" as female harmonies join in, cymbals shimmer, a bunch of cheers and whoops ring out (from a bunch of Aggies, no doubt), and percussion, applause, and merriment breaks out, "…lift your voice, it's the year of jubilee, and out of Zion's hill salvation comes." Everything flows together in pure joyful praise to the Messiah King. Thus "Days of Elijah" begins Ross King's album, To Make God Famous.
In the last post, I reviewed the three Breakaway Ministries albums where Ross led worship, and it was interesting to hear the obvious growth in recording quality, worship leading, and overall production value from album to album to album. I do not know for sure whether the live worship songs in this 2001 album were recorded at Breakway or not, but whether they were or not, it's obvious that Ross has learned and improved a lot over the past few years.
This is a perfect song to start on– there's a chance to showcase the vocals and the band, but with refrains like "There's no God like Jehovah" and truly engaging lyrics, the audience/congregation participation is just right. In the previous Breakaway albums, sometimes all you could hear was the random "WOOO!" from the people there, while other songs sounded like plain bootleg recordings from the auditorium.  I know that reviewing a "worship album" (what does that even mean?) is kinda odd– but I'll do my best. I know that Ross's heart is to lead people in worship to God, whether live or through recordings– so let's make that the bar by which we can evaluate the album.
A rousing song with Old Testament visuals about the coming of Christ is followed by a mellow tune ("Great Is Your Love") with chill electric guitar riffs, fun percussion, a little organ and a simple chorus: "I will praise You oh Lord my God / With all of my heart I will glorify Your Name forever." Some female vocalists pick up the chorus and Ross counters with these lyrics, "Great is Your Love to me / You have delivered me."  (What do you call it when men sing one set of lyrics and women sing another set? I honestly don't know– is there a term for this, also heard in Ross's "Who May Ascend" as well as the classic "You Are Holy (Prince of Peace)"? –EW). 
"Great Is Your Love" focuses on what God has done and what we will do in response, and this makes it a wonderful song for congregational worship as well as radio play– and I have enjoyed hearing it on the radio at random times! Ross slows down with a quiet, reflective song ("In Need") with a reverent ambience, all about our dependence on God– and specifically on Christ. The next song ("Who May Ascend") picks up the pace– and you get an audience clapping in perfect synchronism. The first lyrics are pulled from Psalm 24:3-4 ("Who may ascend into the hill of the Lord? And who may stand in His holy place? He who has clean hands and a pure heart…") but it grows into an anthem of surrender, with everyone singing "Lord, not my will, but your will, let this be my cry" (which finds its source in Luke 22:42). These three songs (along with "Meet With Me" and "We Love Our God") were featured on earlier Breakaway albums, but it is always fun to hear a second version of a second. On top of that, most of the newer recordings are much more pleasant to the ear. 
Ross continues with "Praise Adonai" (by Paul Baloche) with a strong drumbeat and a driving, beautiful acoustic guitar sound. The song flows smoothly into "I Want To See Your Face" (are those some Ross King bongos I hear?) and the lyrics (written by Steven Manuel) are all about God's glory– "I am enraptured by all that You are / You outshine the sun or a thousand by far / My cry is to know you and be known by You / So reveal yourself Father, You know it's true– I want to see Your face…" To Make God Famous has a good blend of King originals (eight) and a few choice songs by others (five). The next song (unless I'm mistaken) was not live, but a studio recording, and it foreshadows some of Ross's work in the follow-up to this album, To Make God Famous, Vol. 2. "Truth Unending" is a simple, peaceful song where Ross bears his soul: "I desire to live in truth no matter what the cost / Shine a light upon the darkest places hidden in my heart / Consume my thoughts / Cause I know You desire to set me free with truth unending…" And through a little studio magic, this song fades into "Meet With Me," a song built upon the story of Moses in Exodus 33, waiting in the "cleft of the mountain for You to pass by." A song rich with biblical imagery and heartfelt lyrics, I prefer this "Meet With Me" to the well-known chorus by Lamont Hiebert.
The transition to "Victory in Jesus" is a little abrupt, in my opinion, but I love the energy, passion, and unique twist Ross puts into/in/on this classic hymn. Another swift, enjoyable transition to "Holy Holy," a song declaring God's worthiness. Ross's songs usually involve fun percussion and engaging vocals, some with better control than others, and "We Love Our God" features the best of both. Just a simple "song of praise unto the Lord" that swells into a stirring anthem by its end. Ross jumps right into "Holy One" with less build than any of his others songs, perhaps because of the numerous verses in this hymn-like song? I'm not sure. The guitar on the album's final song ("Tis So Sweet To Trust In Jesus") reminds me a bit of Johnny Cash's "I hear that train a-coming" engine rhythmic sound. It's not slow, not fast, but steady and worshipful– "Jesus, Jesus, How I trust Him / How I proved Him o'er and o'er / Jesus, Jesus, precious Jesus / Oh for grace to trust Him more… Grant us grace to trust You more."  And so ends the album. It's a truly worshipful experience, as any "worship album" should be– praises to God's glory, some songs about our relationship with God, a few intimate songs and many anthems for corporate worship.  A wonderful album to start off the 2000s. And it's only getting better!
Favorite Song: Can't beat "Days of Elijah"
Favorite Lyrics: "Spirit, bring Your life to me / Let me share Your victory / Spirit, conquer all of me and take away my idols / Spirit, You are free in us / We declare our love and trust / We believe You're moving us / Bring us to revival" ("Holy One (You Stand Alone)") (as well as many lyrics listed above)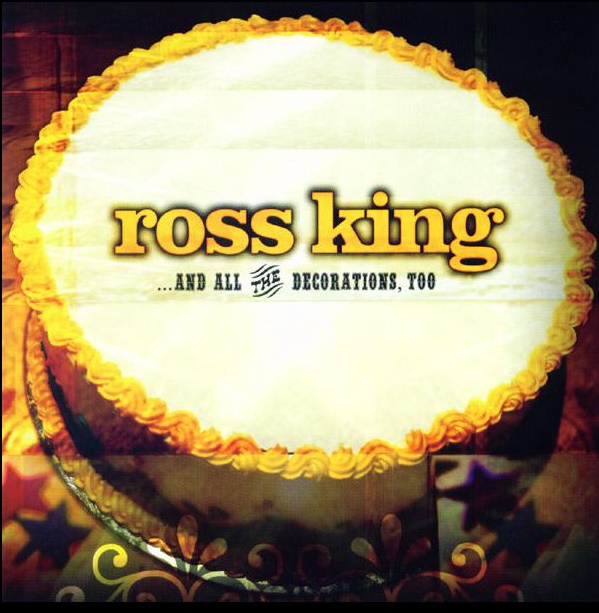 And All The Decorations Too (2002)
It's probably a mix of nostalgia, comforting memories and the fact that I listened to this album non-stop for months and have almost all the lyrics memorized– but this is my favorite classic album from Ross. (Of course, the reason it brings back such good memories and feelings and the reason we played it so much was because it is totally amazing.  But I'll try not to oversell it.
"You followed me out to the desert / I wandered the cactus and the sand / You carried a bucket of water in your hand…"  With a funky sound (almost resembling when you fast forward a clunky VCR…) and some lyrics that reach out and grab you from the get go, And All The Decorations Too starts off strong. (Dang it, that sounds like it eventually gets bad.  I can't lie– it's all strong.)  "Safe Distance" is a cry to God that's a mix of wandering Israelites similarities, modern "idiot gets lost in the desert" allegory, and honest statements about our tendency to walk away from God.  "You give me the room to be stupid / You give me the freedom to run… but I'm tired of the distance between us / Because I know it keeps me from intimacy…"  Still, God is good even to us fools in the desert and hears our hearts cries.  This song is fun and funky, from the beginning rrrrrrrrhhthh (VCR fast forward sound) to the glissando (apparently this is the term when you glide your fingers down all the white keys) at 2:58 to the heavy use of electric guitars and pounding drums and banging keys all the way through.  It's the perfect beginning to the album.
And now, a kazoo.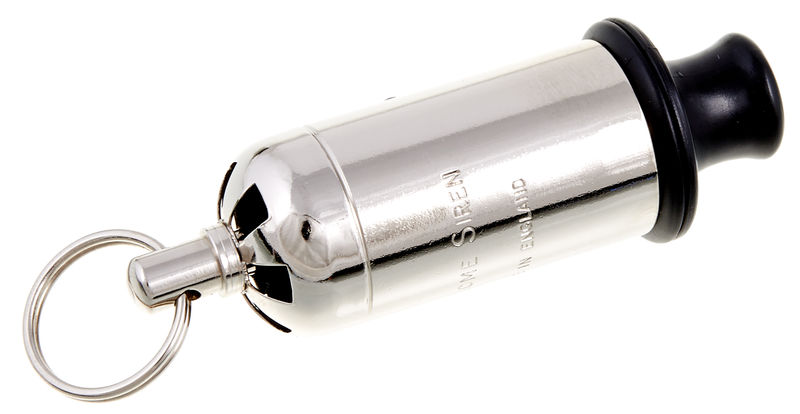 Well, actually an "acme siren whistle"– again, something I've enjoyed for years, but never known the actual name.  And granted, never heard on a song.
"Smaller Victories" is… quirky.  Other words I'd use– party, carnival, dizzy, tick-tock clock-like percussion, dream-like, almost kiddy.  Ross sings about the choices a beliver must make when he's living for Christ and abandoning the ways of the world, mentioning John the Baptist and Stephen, "recalibration of the mind," and how "sometimes things get a little awkward when dead come back to life."  Even more, this is a song directed to someone who does not feel these same convictions– "you and I are different, that's a fact…"  Further on: "I don't want to be a hero or a martyr / But I really want to be as truthful as a word / We just don't like the taste of living water / So we look around until we find a drink that we prefer."
Wow. Not what you'd expect from a song that starts off with an  acme siren whistle, includes a little melodica, and ends with a fiddle and… a kazoo!  I mean… you've just to listen to it.
Here comes the ballad.  With some earthy drum, a bit of windchimes and cymbals and a little dreamy synth, you can tell we're entering into something different. In "Venice is Sinking," Ross is now a third-generation gondolier in Venice, Italy, giving tourists rides (especially wealthy Americans) all the while wondering… "If Venice is sinking, why do we believe we'll all be fine / If Venice is sinking, how can we believe we'll all stay dry?"  And surprising as it is, yes, Venice is sinking.  But more than that, we all put so much faith and trust in fallible, failing, falling, sinking systems and people, while all the while, "reality it seems is getting closer and rising higher…"  Honestly, though, Ross is rather vague in the song– what is "Venice" and who are the "Venetians" in this allegory?  Is it the Church? America? The world?  I'm glad it's vague, though.  It is thought-provoking in its abstract nature. If he added a bridge detailing exactly what each line means… well, the intermingling of mystery and truth would be laid bare and dissected and the song would lose its prophetic voice.
A gurgling organ starts off "Things That Matter," an Americana rock song with a little gospel sound.  "Your honor and your glory and your kingdom are the only that's matter really / We rarely ever live for what's eternal / Those are the only things that matter at all."  Throw in some "la la las" and a dozen killer lines (including "…to my surprise the glory of the Lord is worth much more than my self-gratification" and "when I sit at the table of the rich man, I put a knife to my throat so that I will not give in to temptation…"), some smooth harmonica, and an echoing ending of "HEYYYYY!" and this song is a solid 7/10.
Now comes "Go Away," a song based off a confusing Bible passage. YAY! In Luke 5, when Jesus comes to Peter, he tells him, "Go away from me, Lord," he said, "for I am a sinful man."  Ross ponders these "forgotten words", wondering why Jesus would call "a heart that was afraid." Then again, why would he call any of us?   "God gives grace to the humble and God gives the earth to the meek / And we want to run into the kingdom with our heads held high, on our own two feet."  Humility.  This is the key that seems to unlock this strange story.  Peter knew himself and knew who stood before Him.  Too often I don't truly grasp my brokenness– and I can never fully know the fullness of God's glory.   Plus, "Jesus loves a heart that hangs its head in shame / So he can take our sin and say 'Go Away'" Wow…
If I had to pick a weak song, I would pick "You Can"— but only if someone was holding a harpoon gun to my head.  It's a beautiful lyrical painting of Jesus– "You are the finest thing that I could live for / And I pray You are the thing for which I die / You're hard to know but so easy to approach / And after all, what else is there to life?"  Every other song is rich with unique instrumentation and an engaging band sound– this is quite quiet and so slow, like a nap in the middle of the album……. ok, the guy with harpoon gun guy is gone.  Really though, this is a solid track, balancing out the overall quality of And All the Decorations Too. It showcases Ross' worship leadership and unique voice.
The next song is a real winner– and it's called "I Lose Again." First line: "You ruined me / You took away my dreams / You did exactly what I wasn't hoping for."  This is not the God that prosperity preachers talk about much, is it?  But this is the God who knows the big picture– a picture that sometimes requires loss, failure and questions at our level so that God's glory can be revealed later on. "It's not how I would have chosen it to end / It makes it hard to see you as a friend / But where would we be now if you had let me win / Hallelujah, I lose again."  How often do you hear a Christian song about the benefits of not getting your way?  Especially on Christian radio?  It's always the God that is with you, that is for you, that will help you win and overcome.  But that God is with you WHEN you lose, is for YOU even when life turns sour, that sees WINS on a larger scale than we do.  Thanks for this song, Ross.
The next song is "Thoughts On Love," specifically God's love. "…It seems like a waste that you'd be crazy about the real me."  Along with some twangy guitar, clap-your-hands beat, a bouncy rhythm and some stretched out lines, this song is a fun sing along.   Further on, it builds with electric guitar solo and some "na na nas" and a resolution: "The whole thing's freaking me out / But I guess that I'm okay / Because I know that without a doubt I'm loved."  Beyond that, though, God's love "always chooses the glory of God."  It's not about us, it's about Him.
With a driving sound, dreamy 50s guitar and a bunch of bongos, suddenly "It's 1945 and Truman has arrived upon a world at war / He has the final say– is there some other way? We'll never know for sure / To keep one nation's hope alive, a generation has to die."  Wow. Um, ok.  Didn't know you were getting a history lesson were you?  Guess what? Stalin shows up one verse later.  In "What Terrors Kings Must Do," it seems like Ross is going into strange territory, talking about the empires and emperors of a sinful, broken earth. But suddenly in a Shyamalan twist (though, when it comes to music, it should be a King twist, because Ross does this all the time), "It's AD 33, accused of blasphemy / He could have turned away… A low and awful way to die, the only way to save our lives… You have not a clue what terrors kings must do to keep their kingdoms…" Oh… OH!  (That's my reaction to the song's twist– what's yours?)
"Unplowed Ground" is rooted in the words of Jeremiah and Hosea.  (Again, how often does chart-topping CCM songs actually pull from Scripture?  Ok, soap-box rant over.) With more synth, stripped bare percussion, and windchimes (back at it with the windchimes!) Ross creates a dreamy soundscape, almost as if we are overhearing the conversation between these prophets and Gods.  Throughout this album, there are many voices at play– songs to God, story-songs, conversations with friends and strangers, but this is one of the few times that God speaks. Ross doesn't treat this lightly, and instead uses Scripture as the framework for God's dialogue, pulling from Jeremiah 4, Hosea 10, and even the parable of the hidden treasure in Matthew 13. God longs for people to return to Him, but reminds them, "I long to ease your pain and bring your fields to life once more / But I will not send my rain until you make me Lord."
Once again, I'm not exactly sure how to describe the instrumentation on a Ross King song. "Veil the Last Discoveries" has the same 50s electric guitar sound, softer drums, some bongos, a little funky feel– it's poppy, bouncy and celebrates the fact that we have to wait and see all that God will do: "You veil the last discoveries– that's how I know that they're bigger than me / You are giant mystery and it'll take all of eternity / And that's fine with me…" 
And finally, one of Ross's best known songs (though now it's possible the recording that his friend Jimmy Needham made is more famous, seeing as its got its own Wikipedia article): "Clear the Stage."  This song is the song that introduced my family and I to the music of Ross King. It was at camp, 2002 or 2003, Friday night talent show.  Someone used this song in a drama– I can barely remember what they did exactly, but the song stuck around in my brain. It was also on the camp video, and listed in the credits, so fortunately I had the name of the artist: Ross King.  I did some searching online, but buying things online wasn't as common (at least for a middle schooler). I didn't know the name of the song, but I found his most recent album (this one) had a song called "You Can"– and thought "Maybe that's it!" I tried Lifeway, Family Christian, but no luck. Finally, on a trip to the nearby independent Christian bookstore (back when that was a thing), there it was!  Ross King–And All The Decorations Too.  We purchased it and put it in the CD player before we pulled out of our parking spot and sat there and flipped through the tracks until we landed on the last song– and yes, it was the one we'd been looking for.  That CD remained in my mom's van's CD player for months, a record that has only been broken by Rich Mullins Songs 2, which has been in my RAV4 multi-CD player for, what, about 6 years no?
"Clear The Stage" is a rallying cry for the Church to tear down its idols and altars, anything that has distracted us from the true worship of God.  With just his voice, a piano and some guitar, Ross implores his audience: "We must not worship something that's not even worth it / Clear the stage, make some space for the one who deserves it."  As the Christian worship culture continues to grow, we continue to need critiques of our failures and foibles, our missteps and wanderings– not sure if there's much of that out there, but fortunately (and yet, unfortunately) this 15 year old song still rings true. Listen and watch below:
Favorite Song: "Clear the Stage" (did you not see that coming?)
Favorite Lyrics:  "Clear The Stage" (I mean, I kickstarted Ross's album and my reward was handwritten lyric sheet– guess which song I chose). I especially love the bridge.
"Anything I put before my God is an idol / And anything I want with all my heart is an idol  / Anything I can't stop thinking of is an idol / And anything I give all my love is an idol…"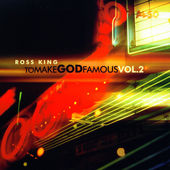 To Make God Famous, Vol. 2 (2004)
Ross's follow up to To Make God Famous bears a familiar title, but it goes a completely new direction.  While the first album was more reminiscent of his Breakaway albums, this project not only contains his God-centered worship leading and compelling lyrics, but also the artistic instrumentation and production values we hear in And All the Decorations Too.  Ross grows and displays his talents more and more with every album– but fortunately, as the title states, it is all to the glory of God.
"Intro" is the, well, intro to the album.  A basic beat, a little finger picked banjo and what sounds like a slowly spinning, crackly record.  The music grows as a guitar joins in, then the music goes up a step– and here comes Ross: "This is the day the Lord has made / I will rejoice and I'll be glad in it / This is the day the Lord has made / I will rejoice and I'll be gl—–" and the 1 minute and 23 seconds song abruptly ends and skips to the next track (oh– was the time on that song supposed to be, like 1, 2, 3?  If so, very clever Ross. If not, still pretty neat.)  "This Is The Day" continues with a fuller sound, repeating the refrain of Psalm 118:24 over and over again. Later on Colossians 1:16 (or is it Romans 11:36?) becomes the bridge, "All things by you, all things for you alone / All things in you, all things bow at your throne." This song is biblical, simple, yet rich– perfect for any church or musician to use in corporate worship.  Ross continues to equip the church with God-honoring songs.
"To God Be The Glory" is a classic hymn– and Ross does the impossible.  Too often when hymns are performed by contemporary musicians, the songs are either untouched and unchanged, therefore adding very little to the song, or they are transformed into something so new and "unique" that neither the white hairs nor the "younguns" want to sing.  This version of the hymn has a driving pace, both the organ and the band, but sticks with the traditional tune and adds nothing new — so Grandpa and Johnny can both sing along in the station wagon.  "Praise the Lord" is both a psalmic request to see more of God's glory ("Show us who You are / Show us who You've always been, who You'll always be") and a song of praise for His attributes ("Praise the Lord for all He is and all that He has done / Praise the Lord, His name is great, His victory is won.")  Ross is accompanied by female vocals, which continues all through this album, and the song features a strong electric guitar and heavy drums, balanced by acoustic guitar in slower sections.
"The Lord Is":  Probably one of the few places outside the Bible where you will hear the line "The Lord is terrible" used in a positive way. (Terrible– "causing or likely to cause terror")  He paints a full picture of God– "powerful, terrible… wonderful, merciful…unshakable…"– with lines that seem like they could be ripped straight from the Psalms, Revelation or the hymnal.  "Listen wicked ones, all who stand opposed to Him / You will soon be done, He will surely come again / He has known your deeds, how you trample on the poor / He will set them free, justice will be done."  The music is exciting, the organ returns once more, Ross's vocals sound like they're coming from an old timey radio, and… wait, what is that?  Is that a cicada?  The fan?  What is that ticking sound?  Is that a bomb?  Have the commies bugged the phone? No, that's just the beat playing all through this song? Oh, ok… So yeah, I see the vision for this choice– it makes the song feel fast and energetic, but I would have gone with something a little different. Still, great song.
"Draw Me Deeper" is a sudden drop in pace and energy that feels out of place– I think if it was moved after the next song, "Whatever You Ask", it would have been a better transition.  Still, with Ross's soft voice, female accompaniment, a little acoustic guitar, banjo, and piano, this song is a quiet song of worship to Jesus: "I am living for eternity / So gently tear my heart from all my earthly loves / And draw me deeper into you, Lord Jesus / Take me closer to the cross where You bled and died / Share with me the fellowship of your suffering for I desire abundant life…"
A rousing organ.  Some stirring synth.  A drum track that draws your attention– and Ross's voice comes in, singing "Whatever You Ask." This song was co-written by John Sherrill and Ross, who worked together at Breakaway Ministries. They wrote many other songs together, but what is curious about this song is that John has a version on his album "Fidelis" that sounds completely different (very upbeat, fast, audience participation) and has completely different lyrics for the verse, but the same chorus.  Then on a later album "The Beautiful Gathering," his version of the song is simply a live version of the one found on Ross's album.  The story?  I don't know– I just find it curious!
This album contains a number of micro-songs– reprises, choruses or intros to other songs.  I do think it's an interesting route– it shows that Ross is more concerned about the overall album telling a full story, rather than worrying about each track being a chart-topping hit. "Meditation (I Will Boast)" is one of these micro-songs. It is followed by "You Alone Can Satisfy," a song that causes me to think of the writing of John Piper and Desiring God Ministries ("God is most glorified in us when we are most satisfied in Him.")  Another curious backing track, some peaceful vocals and a little banjo and guitar combined with Ross' honest and heartfelt lyrics ("I have wasted affections on the thing You have despised / Now I long to return to You") make this a sequel in spirit to "Clear the Stage."  Next up, "I Will Boast" is literally simply Ross and a piano– perhaps with a wonderful analogy at play.  Just as we must confess Sola Christo, boasting only in His work and no efforts of our own, this song can't rely on the band, artistic layering or interesting instrumentation– just the union of voices and keys. He continues to wield the truth, singing "Religion cannot save, service cannot save / Surely good deeds cannot save my soul from death / Preaching cannot save, singing cannot save / No, even Scripture cannot save my soul from death."  This is a dangerous song to sing at church– what if someone misunderstands?  What is the preacher feels insulted? The choir? The ushers?  We couldn't have someone feeling like their work isn't as important as the work of Jesus, could we?
Well, fortunately the next song is "Community," all about how the Church should live.  He echoes the words of Ephesians 4 and 1 Corinthians 12 and sings, "Teach to be community / Unify our hearts as one…"  Listen and meditate on the words– how is your church living up to its call?
The song has one of the best transitions at its end, as "This is the Day (Reprise)" slowly fades in– it's hard to note where once song ends and the other begins. Perhaps the same should be true of church and worship– they should be indistinguishable, no?  (Note: I think this micro-song contains even stronger lines than the full song: "And when I am sinking down and when I am tired and weak and lame / I know You can lift me out– the friend of my heart is nature's King")
"Made Me Glad" starts with a THX style sound, doubling up again and again, until it breaks and moves to acoustic guitar, electric keys and the voice of an angel.  Oh, no, sorry, that's Staci King, Ross's wife.  (At least I am pretty sure it is her– just wish I knew where the liner notes were…) This song, made famous by Hillsong, is a beautiful, heartfelt psalmic song of praise.  Except, another problem with the way the album was produced– with all the creative transitions and micro-songs, such as the final song, "Praise the Lord (Reprise)", is that when you listen to an individual song, it either begins abruptly ("This Is The Day") or ends abruptly ("Intro") or ends with random piano notes ("Made Me Glad").  Just a few criticisms on an altogether excellent worship album (but what does that term even mean?!?)
Favorite Song: "You Alone Can Satisfy"
Favorite Lyrics: "I am living for eternity / So gently tear my heart from all my earthly loves / And draw me deeper into you, Lord Jesus / Take me closer to the cross where You bled and died / Share with me the fellowship of your suffering for I desire abundant life…" ("Draw Me Deeper")
Originally, I had planned to cover all of Ross's 2000s albums in one review. But seeing as I've now taken an hour of your time (or at least 15 minutes…. though let's be honest, you skimmed), I will save the rest for next time.
In 2 years.
Well, hopefully not that long.
23 months.
Until then!